Dual Hub Motor
The Dual 1000W hub motor on the wheels can provid a strong 3200W output power, which is powered by 2 x 25A speed controllers, maintaining the optimal performance of the e-scooter at all times.
Dual Suspension
The front and rear independent suspension can greatly absorb the discomfort caused by rough roads.
Dual Hydraulic Brake + ABS
Dual hydraulic brake plus ABS system ensure you a safe and smooth sudden brake.
LED Headlight & Taillight
Equipped with front & rear lights, they can illuminate the road and remind others, making you safer to ride at night.





52V/18.2Ah Lithium-ion Battery
Equipped with the 52V/18.2Ah capacity lithium-ion battery, 
 it's able to reach more than 64+km long-distance riding on Eco Mode.
8-9 h (1 charger)
4-5 h (2 chargers)
With intuitive and informative LCD Display, everything you need to know: distance, speed, battery power, etc. all available to you at a glance.
Accelerated with one button, easy to use.
Fast and convenient locking clamp makes folding and unfolding easily.
9.1-inch-wide deck provides enough room for your feet to stand side by side.
LED Headlight & Taillight
Pull the brake and the front& rear red lights will light up. They can illuminate the road and remind others, making you safer to ride.
Front and Rear Shock Absorption
Using independent suspension system, the Varla Scooter can absorb more bumps and keeps your ride smooth and stable.
Dual Hydraulic Brake (Upgraded)
More powerful, more effortless braking and longer lifespan. The sealed system works well in any riding conditions.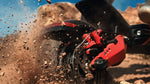 Dual Hub Motor
1000W*2 Hub Motor
Eco/Single/Turbo Mode
3200W Peak Output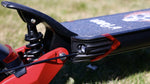 Dual suspension system
Front and rear suspension
Reduce road bumps
Ensure a smooth riding experience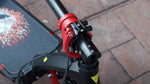 Dual Lock Clamp
Security and stability
Secure safety performance
Quick-Fold and Unfold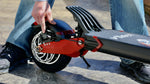 Dual Hydraulic Brake + ABS
Efficient braking performance
Better drainage performance
Anti-Lock Braking System
Speed Mode
Eco/Single/Turbo
Charging Time
8-9H (single charger)
4-5H (two chargers)
Charger
2.0A quick charger
Brakes
Dual Hydraulic Brake + ABS
Tires
10 inches Pneumatic Tires
Suspensin
Dual Independent Suspension
Lighting
Front & Rear LED
Frame Material
Aluminum Alloy
1. What's the Top Speed?
The max safe speed can up to 20km/h.
2. What's the Payload Capacity of Varla Eagle One?
The payload capacity can up to 150kg, but we recommend that the max safe payload is 120kg.
3. How Long Does the Varla Eagle One Go?
Generally speaking, the range can reach 64+km per fully charge on Eco mode.
Ranges on scooters vary greatly by riding style, temperature, and terrain.
4. How Long Does It Take to Recharge the Battery?
1 Scooter Charger : 8-9 hours from 0%-100%
2 Scooter Chargers : 4-5 hours form 0%-100%
5. What's the Dimensions of Varla Eagle One?
Unfolded Dimensions: 128 * 64 * 130 cm
Folded Dimensions: 128 * 64 * 51.1 cm
1. Varla only sells Adult Electric Scooter, which means a minimum age is required. (≧ 18 years old)
2. Our electric scooters have CE Marking, which means they are legally safe enough to sell everywhere in Europe.
3. Varla Eagle One is clamped at 20km/h to comply with the current EU legislation. (The speed limit can be removed through P-Setting.)
4. Please obey all the speed laws in your country and travel at a safe speed.
5. Always wear a helmet and check your scooter condition before every riding.